UPDATE 2020
International Welding Technologist -IWT No.080048A-
Level II UT,RT,MT,PT,VT UNI EN 473/PED 97-23-CE
Level II UT-TOFD UNI EN 473/ISO 9712
Level II UT-PA (Phased Array) UNI EN ISO 9712.2008
Coating Inspector Level A -INAC No. 239-
Saudi Aramco Inspector (Pressure Vessels and Heat Exchanger)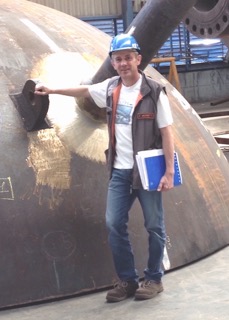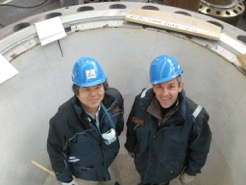 My name is Ferdinando Moretti. I was born in 1965, I'm married, I have two daughters and I live in Udine, a small town in a region called "Friuli-Venezia Giulia" in the North East of Italy.
I started working in 1982 and since 2006 I have been working as a freelance Welding Inspector in the Oil & Gas sector covering the North of Italy. I am specialized in the following items: pressure vessels -several sizes and materials SS, CS, Steel low temperature (Ni alloy), Steel high temperature (Cr, Mo, V alloy) and cladding -; reactors/separators -heavy wall thk in Cr, Mo, V (API 934-A); Urea Reactors/Ammonia converter -several sizes-; Heat Exchangers -different typologies as per TEMA-R-; and USC boilers. I periodically performed checks on valves -several sizes and types- (API Standard), forged and cast products and in some occasions I monitored the painting activities as a coating inspector. The list of all projects I worked on, can be seen "Project Reference List".
My professional experience in the pressure vessel construction and inspections started in a world-leading company -Mangiarotti Spa- where I worked as a contract execution manager for inspection and testing. I covered the same role as a consultant, enriching my experience in the workshop, including a specific development in metallurgy of welding and inspection on weld joints. Moreover, I'm working as a teacher in secondary schools (ITS Malignani) as a welding/metallurgic specialist.
In the last years I focused my working experience as a lead welding inspector on several projects regarding heavy wall Thk in Cr, Mo, V material Reactors and Separators on behalf of FLUOR; KBR; JGC; Conoco-Phillips; FW-CHS; Hargrove-Chevron. On behalf of CF Industries (US) I worked on several Items like Urea Reactors, Ammonia Reactors, BFW Preheater (Exchanger).
In addition, I have been involved on behalf of Fluor in PJV Project for the construction of No. 25 Pressure Vessels several materials/dimensions, on behalf of PETROFAC in TurkStreem Project for the construction of No. 6 Gas Separation and on behalf of DuPont (US) for the construction of the Finisher Agitator Cage.
The latest years were very important for my activity and my professional knowledge, with several projects successfully completed. Here below some recent comments on my performance received from clients. (For detail see "Client references List").
Da:Birdzell, Jeffrey

A:Ferdinando

Data:14 October 2019 13:12

Oggetto:RE: CF Industries – Woodward Nitrogen Complex – Upgrade No. 1 – Casale V-101 Secondary Urea

Dear Ferdinando,
I completely understand the need to keep your word with your client. It was a great relief
to know that our interests were being looked after by someone of your expertise. I look
forward to the next project we have where we can utilize your talents.
Kindest Regards,

Jeff Birdzell | CF Industries
Senior Process/Project Engineer
Da:Stephen Juden

A:Ferdinando Moretti

Data:April 9th 2019

Oggetto:Re: Report PJV F. Moretti

Hi Ferdi,
I would like to take this opportunity to thank
you for all your hard work during the manufacture and
Inspection of the FB-4-0218 Mangiarotti Heavy Wall
Pressure Vessel scope.
I wish you best of luck for the future and would have
no hesitation in recommending you for any future inspection
assignments.

Regards,
Steve Juden| KAZAKH PROJECTS JOINT VENTURE LIMITED (PJV) | SQS Coordinator
Da:Kundannuru, Subhash

A:Ferdinando Moretti Camilla Pagani [ACES GQS]

Cc:Nair, Balagopal Rane, Pradeep (QA/QC) Puttur, Rajesh

Data:10th Oct. 2018

Oggetto:RE: PPFM002 (Italy) IR41 F. Moretti

Dear Ferdi,

It was indeed a great pleasure to have an inspector like you for our job even though it was not a complex one in terms of material, design but to keep in mind of the heavy thickness involved (212mm Thk) during fabrication. This is where your expertise and experience had helped us along with your knowledge in PAUT & TOFD to sail through without any hiccups.

Really we commend you for the excellent performance and timely approach shown through out the job.

We would like to have an inspector like you for our upcoming jobs and special thanks to ACES for referring his CV.

With Regards,
Subhash.K
PETROFAC TurkStreem Project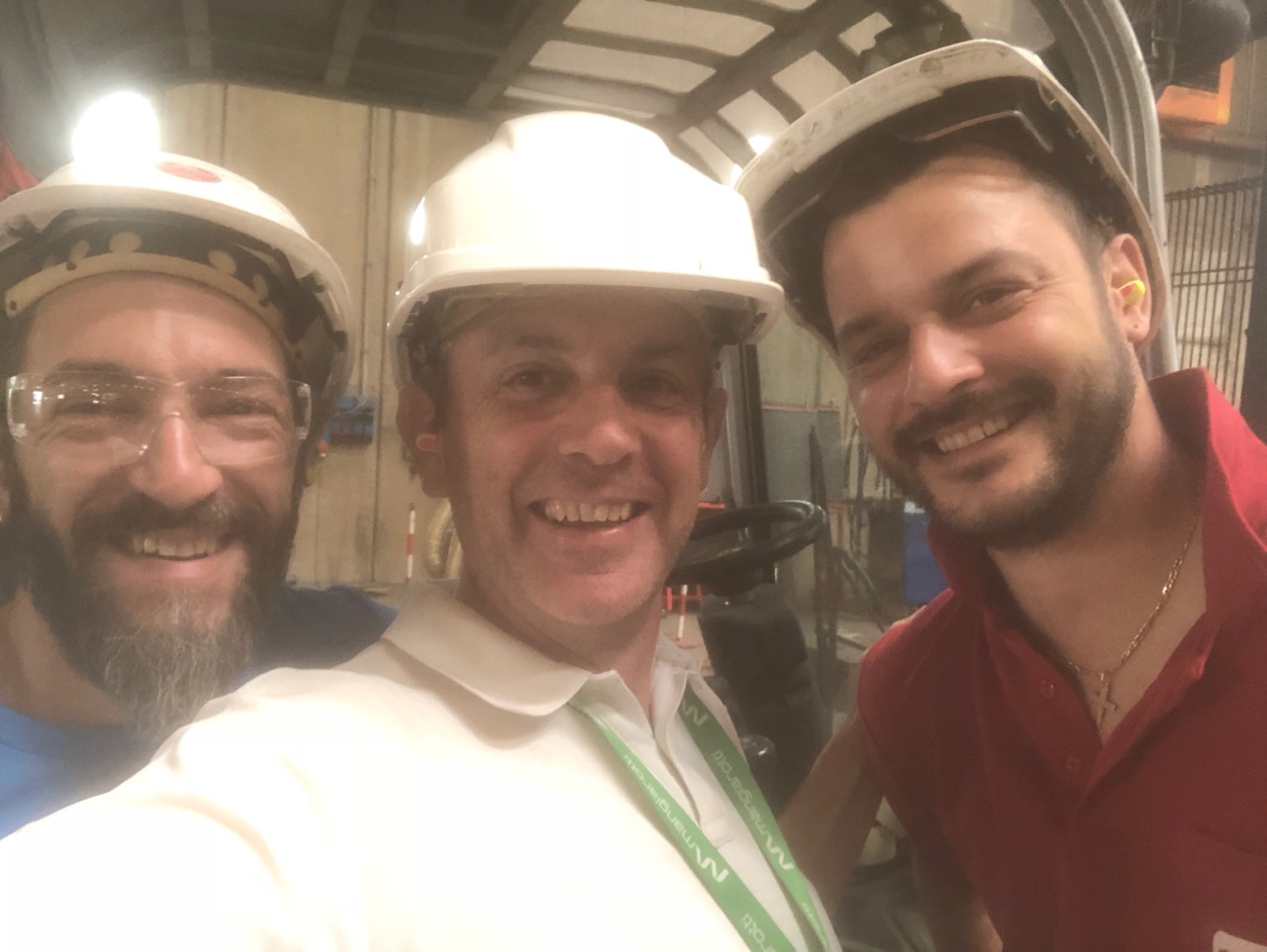 I have the Welding Specialist and International Welding Technologist qualifications, obtained from the Istituto Italiano della Saldatura (Italian Welding Institute). I also obtained Level II for NDT checks (VT, MT, PT, UT, RT), Level II for UT-TOFD and Level II for Phased Array (PA). I obtained the qualification of Coating Inspector Level A from the Italian Anti-Corrosion Institute and ARAMCO qualify for Pressure Vessels and Exchangers.
The experience gained during both the KBR project (2013/2014) and the JGC (2010) project with new generation Reactors/Separators enabled me to build a significant knowledge of refractory lining, internal shroud and internal appurtenance in SS materials fabrication.
Between 2011-2012, I had a special training that lasted about 6 months, with Mr. Yoshimizu Y. (Refractory Specialist -API 936- JGC Japan) regarding refractory application. This training was carried out on a building yard during the fabrication of 4 Reactors and 2 Separators (Project: Puerto La Cruz -PDVSA-Venezuela). The training included: qualification of process, material and personnel, monitoring of the application of refractory lining, checking of the refractory after curing and dry-out and witnessing at test on refractory samples at Thermal Ceramics Laboratory.
Regarding the KBR project (2014) I worked together with Mr. David Smith Refractory Specialist of Quartis Limited. My activity involved the surveillance of refractory application by casting and NDE checks.
In my free time I work in the artistic workshop of my wife, where she creates objects in ceramic and I make small objects in steel. Finally I like running in the mountains (with my beautiful dog Axel) and participating in several competitions of Sky-race in Italy and abroad.
Training courses: every year I attend professional refresher courses on topics related to metallurgy, welding (process/checks). Recently I attended the following courses at the AIM -(Italian metallurgic Institute): 1. Heat Treatment on steel works, forging and no ferrous materials; 2. Metallurgy of Forgings; 3. Alloy steel for high temperature Cr, Mo (Creep); 4. Metallurgy and Corrosion on Stainless Steel materials; 5. Casting.
Planned for current year a training course on Metallurgy/weldability of Ni Alloy.
(For details see "Certification Section")