CV Download the CV in pdf
Updated September 2016 International Welding Technologist -IWT No.080048A- Level II UT,RT,MT,PT,VT UNI EN 473/PED 97-23-CE Level II UT-TOFD UNI EN 473/ISO 9712 Coating Inspector Level A -INAC No. 239- Saudi Aramco Inspector (Pressure Vessels and Heat Exchanger)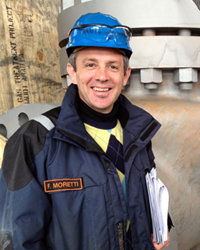 My name is Ferdinando Moretti. I was born in 1965, I'm married, I have two daughters and I live in Udine, a small town in a region called "Friuli-Venezia Giulia" in the North East of Italy.
I began working in 1982 and since 2006 I have been working as a freelance Welding Inspector in the Oil & Gas sector covering the North of Italy. I am specialized on the following items: pressure vessels -several sizes and materials SS, CS, for low and high temperature-; reactors/separators -heavy wall thk in Cr, Mo, V (API 934-A); heat exchangers -different typologies as per TEMA-R-, valves -several sizes and types- (API Standard); big boilers. I periodically performed checks on forged and cast products and sometimes monitored the painting activities as a coating inspector. The list of all projects that I worked on can be seen below.
My professional experience in the pressure vessels construction and inspections started in a world-leading company -Mangiarotti Spa- where I worked as a contract execution manager for inspection and testing. I covered the same role as a consultant, enriching my experience in the workshop, including a specific development in metallurgy, welding and inspection on weld joints. Moreover, sometimes I acted as a teacher in secondary schools as a welding/metallurgic specialist.
In recent years I focused my working experience as a lead welding inspector on several projects regarding heavy wall Thk in Cr, Mo, V material Reactors and Separators on behalf of FLUOR; KBR; JGC; Conoco-Phillips; FW-CHS; Hargrove-Chevron. I'm currently involved on behalf of SAIPEM in a project for the construction of No. 15 Gasification Reactors in Cr, Mo material and No. 5 Syngas Effluent Coolers (Jazan Project) at manufacturer ATB Brescia.
2014/15 were very important years for my activity and my professional knowledge with two main projects successfully completed and other work engagements listed below:
 Still In progress, project for the manufacturing of No.1 Reactor (Pascagoula Chevron Refinery) and I am working as appointed leading inspector following the fabrication process, overviewing all main-parts and sub-suppliers. Hargrove Engineers/Chevron, during the fabrication process, sent me their comments on my performance.
From: Greg Magner Sent: Tuesday, October 20, 2015 11:08 AM
To: Ferdinando;

Ferdi,

-We appreciate the excellent reporting you have done for us.

-I am impressed with your reports – keep up your good work, we appreciate your contribution.

Thank-you and Regards,

Greg Magner I Quality Assurance Leader –Hargrove Engineers/Chevron-

Hargrove Engineers + Constructors
In March 2016, I delivered No.4 Reactors-Hydrotreaters (CHS Laurel Refinery -Montana-) and worked as appointed leading inspector following the fabrication process, overviewing all main-parts and sub-suppliers. CHS, at the end of the project, sent me their comments on my performance.
From: Kevin Gaskin <Kevin.Gaskin@chsinc.com>

Oggetto: F. Moretti -Project FW/CHS Laurel Montana- Data: 19 Jan. 2015 16:04:37 GMT+01:00

A: Ferdinando Moretti <ferdinando.moretti@alice.it>

Ferdi,

– Your report is well written and very thorough.

– As always…thank you for your professionalism

Kevin Gaskin

Quality Manager CHS Inc. (Cenex  Refinery) Laurel MT US
In September '14, I delivered Two LPH Hot High Pressure Separators for KBR (TAIF-NK PSC Russia) and I worked as appointed leading inspector following the fabrication process, overviewing all main-parts sub-suppliers, monitoring the refractory installation and internals mounting. KBR, at the end of the project, sent me their comments on my performance.
Ferdinando,

I would like to take extend a thank you for the hard work and dedication you have provided with this project, I will for sure use you again in future work when available.

Thanks, George Griffin KBR

I'm joining my congratulations to successful job completion in addition to George statement below,

Thank you again for all your help,

And hope we could work in future again!

Regards Alon Raichman KBR
In October/December '14 I worked on the JGC-RASGAS big boiler construction as appointed welding inspector and I surveyed the whole process of manufacturing.
In July '14 I obtained the ARAMCO qualification for Pressure Vessel and Exchangers.
In March/April '14 I held a course on NDE checks for specialised engineers at the ENAIP professional Institute.
In February '14 I attended a course held by Ph. D. M. Boniardi (professor at the University of Milan Politecnico) about Corrosion on stainless steel materials.
I have the Welding Specialist and International Welding Technologist qualifications, obtained from the Istituto Italiano della Saldatura (Italian Welding Institute). I also obtained Level II for NDT checks (VT, MT, PT, UT, RT) and Level II for UT-TOFD. I obtained the qualification of Coating Inspector Level A from the Istituto italiano Anticorrosione (INAC) (Italian Anti-Corrosion Institute) and ARAMCO qualify for Pressure Vessels and Exchangers.
I planned for current year -2016- a training course on UT-Phased Array Technique to improve professional skills:
The experience gained during both the KBR project (2013/2014) and the JGC (2010) project with new generation Reactors/Separators enabled me to build a significant knowledge of refractory lining, internal shroud and internal appurtenance in SS materials fabrication.
Between 2011-2012, I had a special training that lasted about 6 months, with Mr. Yoshimizu Y. (Refractory Specialist -API 936- JGC Japan) regarding refractory application. This training was carried out on a building yard during the fabrication of 4 Reactors and 2 Separators (Project: Puerto La Cruz -PDVSA-Venezuela). The training included: qualification of process, material and personnel, monitoring of the application of refractory lining, checking of the refractory after curing and dry-out and witnessing at test on refractory samples at Thermal Ceramics Laboratory.
Regarding the KBR project (2014) I worked together with Mr. David Smith Refractory Specialist of Quartis Limited. My activity involved the surveillance of refractory application by casting and NDE checks.
In my free time I work in the artistic workshop of my wife, where she creates objects in ceramic and I make small objects in steel. Finally I like running in the mountains (with my beautiful dog Axel) and participating in
More details on Projects and several pictures are available on section Projects.